I used some of the chicken from "Meat for the Week" to make this quick lunch.  FIVE MINUTES people!  FIVE MINUTES! For a delicious, healthy, REAL FOOD, lunch!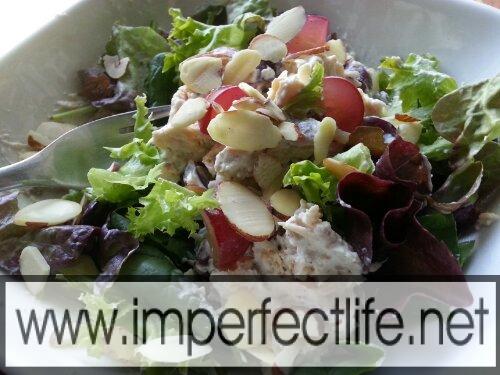 Ingredients:
1/2 of a cooked chicken breast from the Meat For the Week, Shredded
1/2 Tbs Greek Yogurt
1/2 Tbs Real Mayo (Salad Dressing/Miracle Whip is full of sugar)
A few grapes, quartered
A pinch or two of Slivered Almonds
A couple handfuls of your favorite lettuce- I one handful of spinach and one of mix greens
Directions:
Combine the chicken, yogurt, mayo and grapes in a bowl- mix well.  Push them to the side, then throw in your greens and scoop the chicken on top.  (This is the one bowl method because I am lazy and don't have a dishwasher- you can feel free to mix the chicken salad in a separate bowl…if you wish.)  :)  Top with slivered almonds.  Devour!
Because the chicken is preseason with the garlic powder, onion powder, SnP, there's no need to add extra ingredients for flavor, but if you have time and aren't lazy like me, you could always add celery or fresh onion or whatever else you like in your chicken salad.  Just promise me you won't add pickles to THIS recipe, okay?
Be sure to "Like" I'mperfect Life on Facebook for recipe ideas, inspiration and words of wisdom.  (also known as my quirky thoughts and I'mperfect ramblings.)  If you're looking for support to help you achieve your I'mperfect Life, check out our Facebook Group!