Kumbaya and S'mores
…and salad and butt-kicking workouts
Check it out!  The 2014 I'mperfect Life Retreat is HAPPENING!
April 23rd through April 27th!
Now's your chance to come together with other I'mperfect Lifers to learn, experience and embrace what it means to live an I'mperfect Life AND run get your adventure on at the US National Whitewater Center!
I've got the dates, location and instructors!  All I need is YOU!  (And all the healthy foods we're going to cook and eat together– but those will have to wait until we get closer to the retreat because, you know, mold and stuff…ew!)
So what's this retreat all about?  Well… let me tell you!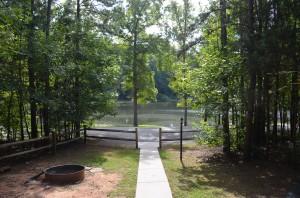 It's a total of five days and four nights in rustic cabins (no running water!) with electricity (including heating and air) so not TOTALLY roughing it but not exactly the Sheraton either!  Don't worry, there is a bathhouse that DOES have running water so we don't have to stink for five days or poop in the woods!  Unless you really want to make it an adventure—but that's up to you!  We'll also have access to a multipurpose hall with a full kitchen for meal prep, classes and spending time together.  (We'll have nightly campfires for that too!)  The cabins are located on a little lake in the woods with fishing and kayaking available for the outdoorsy types.  It's so pretty and peaceful!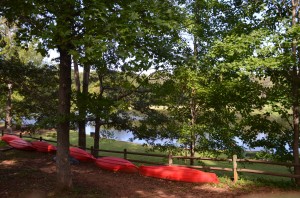 Thursday and Friday will offer multiple clinics, workshops and demos about topics such as:  running, cycling, cooking, working out at home, fueling for endurance, general nutrition, goal planning and my favorite– COOKING!
Saturday we will go on an adventure to the US National Whitewater Center which is bound to be a freaking blast!  We will have the pack as much action as humanly possible into one day- whitewater rafting, kayaking, rock climbing, zip lining, ropes coursing and more!  There are some weight limits on a few of the activities so please check their site ahead of time to choose which activities you want to do!
I know what you're thinking, "Oh man, that sounds awesome!  I'm totally in!  How do I join?"
Perfect!  That's exactly what I wanted to hear!  Registration is easy!  You just pay me money and I let you in!  Actually, that's not exactly how it works.  No creepers allowed!  This is a safe environment that is reserved for those of us who are working towards living an I'mperfect Life!  So, you must fill out the contact form below and tell me why you want to come.  I don't need an essay in APA format, just a quick note about yourself, your goals and why you want to be a Lifer.   I will respond with any questions I might have and then I will send you an invoice so you can pay me lots of money…at least enough to cover the cost of the retreat. I reserve the right to deny registration at my discretion.
Oh right!  The fee!  The cost is $495.00 per person and the cabins will sleep a TOTAL of 16 people (four per cabin) so you need to register FAST!  There is tent camping available if we run out of space or if you just REALLY, REALLY want to sleep on the ground– the cost for that is $445.00 per person which includes everything but a place to sleep.  Tent reservations will need to be made directly with the park.
Day passes are also available to those who are local and want to sleep in their own beds or those who want to sleep at the Sheraton or at least the closest Days Inn.  (Message me if you want info about this option)
The fee also includes:
All of your on-site meals
All clinics, demos and workshops with necessary materials
A one hour massage by the best therapist on the planet (yes, she's that good)
An All-Sport Pass to the USNWC
Transportation to and from the airport (CLT) as well as anywhere else we go as a group
You'll also get a gift bag with goodies (everyone loves goodies!)
And a Team I'mperfect Life technical shirt to wear at the Whitewater Center– what more could you ask for?!  Such a steal!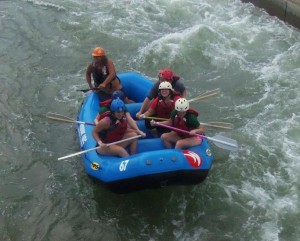 Now down to business–
Registration is on a first come-first-served basis.  A $250.00 non-refundable deposit is due at the time of registration- it must be paid within 7 days from the time I send you the invoice. The remaining balance is due no later than March 15th, 2014.  All participants will be required to sign a liability waiver holding harmless, I'mperfect Life, of any (potential) catastrophes (of which I expect there to be none!).
I cannot WAIT for this experience!  It will be like summer camp for adults!  Except we won't have to make crooked lanyards and get tricked into hunting for snipes!
Got questions or concerns? I've got answers! Contact me below or use the email link at the top of this screen.
Is it April 23rd yet?!