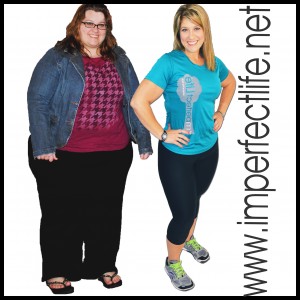 PLEASE EXCUSE THE MESS! THIS SITE IS UNDER (RE)CONSTRUCTION!
Hi! I'm Andrea, the creator of I'mperfect Life®!  I've lost 164lbs with a jumpstart from gastric bypass surgery followed by a complete lifestyle overhaul.
As a kickass whole-foods cook, badass certified personal trainer, and ANTI-hardass when it comes to living life, I'm on a mission to inspire others to join me in letting go of perfection in order to live the happy, healthy, active lives we all want to live by embracing REAL FOOD, REAL FITNESS and REAL LIFE!
Want to know the (almost) whole story?  Check out my podcast interview with Taylor at LiftingRevolution.com